Nightrain Present
WHO'S NEXT - THE PREMIER LIVE TRIBUTE TO THE WHO
with
Who's Next - The Ultimate Who Tribute
,
BRAVADO CARTEL
21/10/2022
21:00
(Doors:

19:00

)
Ages 14 and Up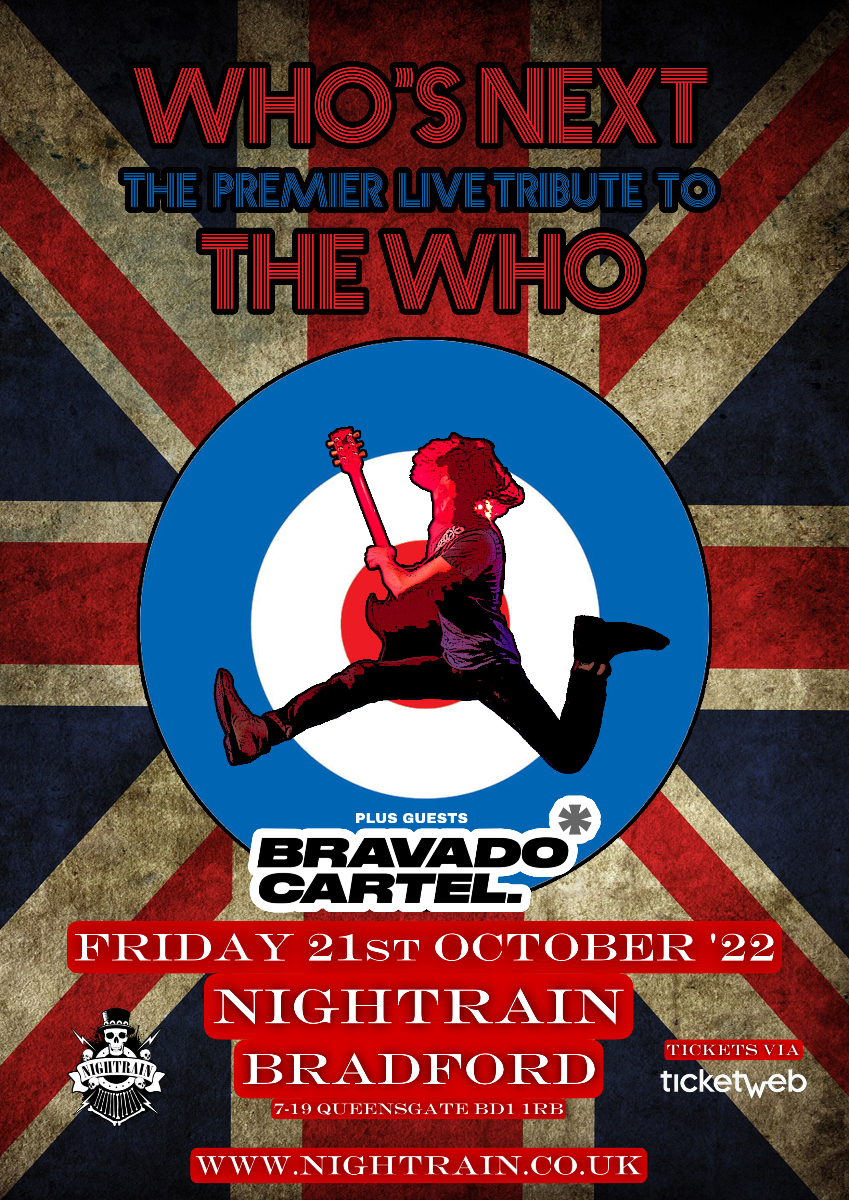 GBP11.00
Who's Next - The Ultimate Who Tribute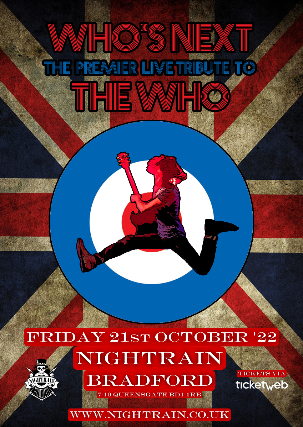 Who's Next – The Premier Tribute to The Who Quadrophenia & Greatest Hits Tour Dates Who's Next are the UK's premier live tribute to The Who. They capture a magical point in time when many believe that The Who were the greatest rock and roll band on earth. Who's Next's live show aims to recreate this period in the early 1970's with the aid of authentic stage wear and instruments. The result is a time machine ride back to the days of Live at Leeds, The Isle of Wight Festival, Tanglewood and the Fillmore shows. It is a must for any Who fan! GREATEST HITS Their Greatest Hits set includes all of Pete Townshend's classic pop songs from adrenaline-fuelled Mod classics such as "I can't explain", "Substitute" and "Anyway, Anyhow, Anywhere" to the psychedelic imagery of "Tommy's" "Pinball Wizard", "Sparks" and "Amazing Journey", not forgetting rock anthems like "My Generation", "Baba O'Riley" and a show-stopping version of "Won't Get Fooled Again".
BRAVADO CARTEL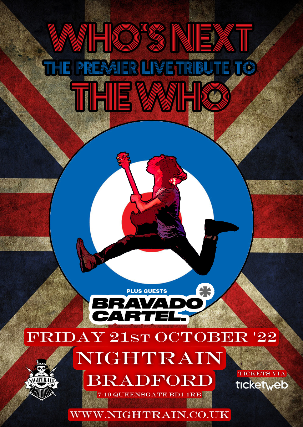 Hailing from in and around Yorkshire,
Brit rock giants Bravado Cartel grab the genre-defining bull by its horns and in a blood red haze drive it from the arena with the accompanying mantra to 'stand up and be counted'.
The Yorkshire five piece are assaulting the ears of the music scene , with what can only be described as a Rock n Roll riot. Their sound has been described as "High octane, thunderous drums, fresh funked up synth, driven 'lead' bass lines and screaming, slightly menacing guitars all held together by linchpin lead singer Will Bloy's distinctive message riddled lyrics".
Billed as 'the most dynamic and energetic live act representing the North of England today' Bravado cartel! Are the band you always wished you were in . From set start to finish the audience are in rapture, captivated by the performance, drawn deeper into the bands conscious with every note, guided by every lyric, enthralled by the commanding onstage performance and highly charged persona of frontman Will Bloy.
Bravado Cartel! , inspire an army of followers who believe that they are, without question, the band that will define a generation!!