Nightrain Present
ELECTRIC BOYS - UK UPSIDE DOWN TOUR 2022
with
Electric Boys
,
SLYDER SMITH & THE OBLIVION KIDS
27/08/2022
20:00
(Doors:

18:30

)
Ages 14 and Up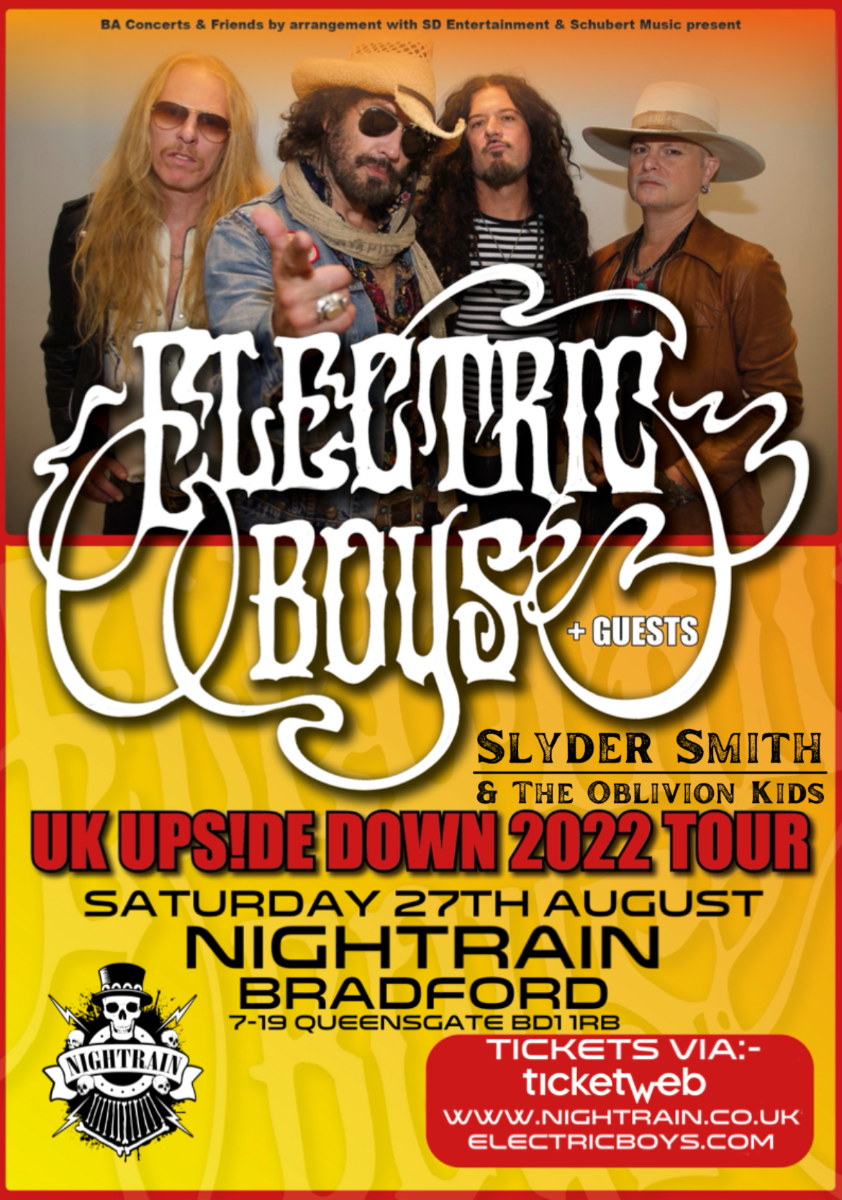 GBP15.00
Electric Boys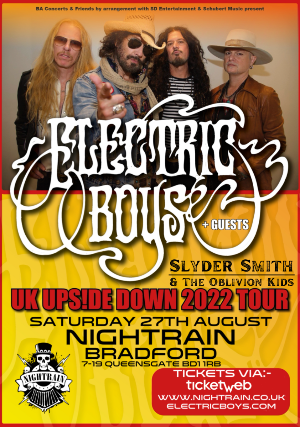 The Electric Boys are much loved for their idiosyncratic combination of hard rock and other forms of music such as funk beginning with their first album 'Funk-O-Metal Carpet Ride' in 1989. In [April] 2021 the band will release [worldwide] their seventh album 'Upside Down' which continues and advances this fusion of music styles to make something of their very, very own.
Recorded at Ghost Ward studios like their successful previous album 'The Ghost Ward Diaries' and co-produced with David Castillo the album showcases the songwriting and performing talents of founder members Conny Bloom on guitar and vocals and Andy Christell on bass while also introducing 'Slim' Martin Thomander on guitar. Jolle Atlagic plays all the drums on the album, as the band's original drummer Niclas Sigevall – still very much part of the band – could not leave LA due to the Pandemic.
The album reflects the turbulent times of this year and spontaneously and organically formed into a concept album tackling adversity and fearmongering and championing the human fighting spirit and ability to transcend even the most difficult situations to find hope and victory over life's circumstances. As such the album taps into the collective consciousness of 2020, being contemporary while also drawing on a wide variety of influences such as Jimi Hendrix, Deep Purple, Bowie, 50s Rock and Roll, late Beatles and even the Sisters of Mercy. Probably less funky than some of the band's earlier material it is no less eclectic and provides a potent cocktail reflecting the history of rock and roll and the light and darkness of existence.
"You can see the light at the end of the tunnel rather than simply the runaway train" in songs like 'This is not the End' "When things are this big and seem out of control you can reverse it and gain control by letting it go." (Conny Bloom). The freethinking and rebellious spirit of the band is alive and well in this latest album and the belief in the power of the message of music and its ability to change the world.
People commonly mention to the band that Electric Boys songs have changed their lives, inspiring them to take up instruments and how much the bands songs have meant to their fans. Known for his fine guitar work and languidly cool persona Conny Bloom is also recognised for his work with Hanoi Rocks and Ginger in the Wildhearts. Andy Christell also joined Hanoi Rocks with Conny and with his distinctive top knot is the epitome of steady, bellbottom-fluttering rock bass.
The band has a tour planned in Sweden and is hoping to widen and include more dates worldwide as circumstances permit.
'Ups!de Down' will be released in LP, CD and digital formats by Mighty Music on 30 April 2021.
Line Up:
Guitars, lead vocals: Conny Bloom
Bass, vocals: Andy Christell
Guitars, vocals: "Slim" Martin Thomander
Drums: Jolle Atlagic / Niclas Sigevall
SLYDER SMITH & THE OBLIVION KIDS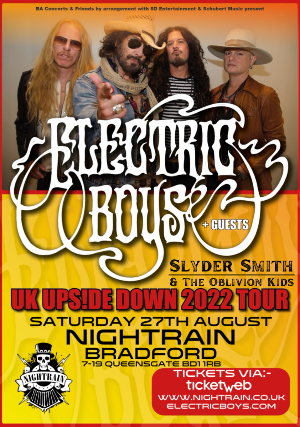 Slyder Smith, guitarist for The Last Great Dreamers has announced a new album. Teaming up with The Last Great Dreamers bandmates, bassist Tim Emery and drummer Rik Pratt. Slyder Smith & The Oblivion Kids are heading to the studio at the end of March.
With over an album's worth of material written, the band have worked tirelessly in the rehearsal studio, whipping into shape a carefully curated, explosive mix of rock anthems, with a few surprises thrown into the mix. With lyrics that speak from the heart, Slyder has delved deep into his own psyche over lockdown and explored numerous new guitar styles, resulting in what can only be described as his best musical output to date.
The Oblivion Kids are chomping at the bit to head in the studio at the end of March with legendary Producer, Pete Brown (who has worked with George Harrison, Siouxsie & the Banshees, Marc Almond, The Smiths & Diamond Head as well as being musical director, vocal arranger & guitarist, in his father's (Joe Brown) & sister's (Sam Brown) touring bands & producing Sam's platinum-selling album Stop).
Having raised the capital required for recording themselves, the band are reaching out to their fans on Kickstarter to help match fund the remaining 50% required to manufacture CDs, Vinyl and other promotional merchandise. In exchange for their support, pledgers can choose from a range of rewards and exclusive experiences.